Sugar Free Sunday and 8 Common Foods with more Sugar than a Twinkie!
Welcome to one of the sweetest weekly virtual potluck get-together ever! Yes indeed — it is Sugar Free Sunday! We host it every Sunday to exchange incredible sugar free recipes. Inspiration to start the week right? You bet!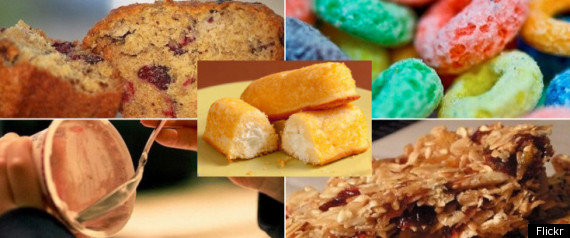 Huffinton Post: Sugar In Food: 8 Eats With More Than A Twinkie
It seems like Twinkies have become the official comparison product to educate people about how much sugar they end up eating! I came across this interesting article published in the Huffinton Post recently, Sugar In Food: 8 Eats With More Than A Twinkie. Out of the 8 foods, some seemed obvious but some surprised me. Here are the foods listed in this article:
"Yeah I knew that had crazy amounts of sugar!" list:
"What? That has more sugar than a Twinkie!" list:
Yogurt
Fat-Free Salad Dressing
Tomato Sauce
Granola Bars
I think Muffins and Smoothies made at home with fresh fruit would definitely reduce the sugar content. As far as the Cereal goes, it always makes sense to have fresh fruit and/or eggs. Canned fruit? No comments! 😉 Now for the Granola Bars, Tomato sauce, and Salad dressing I think when made at home, again, you definitely end up reducing sugar because you know what you are putting into it. Yogurt, I'm still surprised… Why does it have sugar again? Maybe because it was sweetened with fruit preserves?
Either ways, all of the above can be made at home (except for Cereal… I have no clue how to make a grain puff up!) and so people just need to cook!
On that note, I hope you'll are keeping a tab on how much sugar you consume. Happy Sunday and have a fabulous Sugar Free Sunday!
How do you participate in the virtual potluck?
Link your recipe post (NOT your homepage) if it does not use refined sugar. Your blog does not have to be entirely sugar free, just the dish you're sharing!
Please link back to this get-together somewhere in your post's text. It's a great way to invite your readers to the fun!
Want to make something sweet without using refined sugar? Just check out all the ways to satisfy your sweet tooth without refined sugar here.
Your link doesn't have to be to a sweet dish! We love to see your sugar free appetizers, entrees, soups, snacks — well — you get the idea!
Please don't link to carnivals or giveaways. This is a party; bring a dish to share!
In the 'Name' field, please enter who you are and what you're linking. For example Sonia would put: Bean Kale Pasta Soup [Sonia @ Flip Cookbook]
It's not a party if no one chats! Please join the conversation by leaving a message in the comments section below. Also make sure you have the 'Notify Me' checkbox selected so that you can listen as well!
Sign up for free to our new venture Velvet Aroma. It's a visual way to read the blogs you love and really bring their recipes into your kitchen.
We're so excited to see what you're cooking….. Sugar Free!
Click on the 'Add your link' button below to share.
You'll Definitely Like These!