Sugar Free Sunday & US diet, 100% sugar by 2606?
Welcome to one of the sweetest weekly virtual potluck get-together ever! Yes indeed — it is Sugar Free Sunday! We host it every Sunday to exchange incredible sugar free recipes. Inspiration to start the week right? You bet!
For this weeks Sugar Free Sunday I would like to share this post By 2606, the US Diet will be 100 Percent Sugar written by Stephan Guyenet of Whole Health Source. Here are some interesting graphs from his post.
Using the pattern obtained from the graph above, if you plot it out into the future, you see that by 2606 the US diet could be 100% sugar!
On a lighter note, I loved this xkcd cartoon that someone has mentioned in the comments. It cracked me up!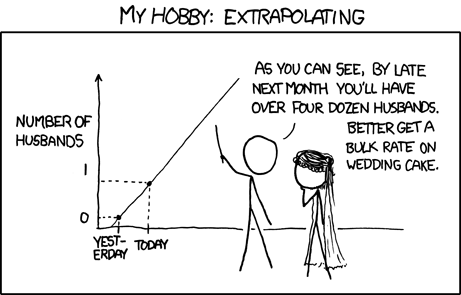 Agreed, that it can be used as a counter argument, but even if the post is taken with a pinch of salt, this should be a wakeup call of some sort either ways! Thoughts?
How do you participate in the virtual potluck?
Link your recipe post (NOT your homepage) if it does not use refined sugar. Your blog does not have to be entirely sugar free, just the dish you're sharing!
Please link back to this get-together somewhere in your post's text. It's a great way to invite your readers to the fun!
Want to make something sweet without using refined sugar? Just check out all the ways to satisfy your sweet tooth without refined sugar here.
Your link doesn't have to be to a sweet dish! We love to see your sugar free appetizers, entrees, soups, snacks — well — you get the idea!
Please don't link to carnivals or giveaways. This is a party; bring a dish to share!
In the 'Name' field, please enter who you are and what you're linking. For example Sonia would put: Bean Kale Pasta Soup [Sonia @ Flip Cookbook]
It's not a party if no one chats! Please join the conversation by leaving a message in the comments section below. Also make sure you have the 'Notify Me' checkbox selected so that you can listen as well!
Sign up for free to our new venture Velvet Aroma. It's a visual way to read the blogs you love and really bring their recipes into your kitchen.
We're so excited to see what you're cooking….. Sugar Free!
Click on the 'Add your link' button below to share.
You'll Definitely Like These!